We cater:
weddings,
christenings,
cotillions,
communions,
showers,
brunches,
family receptions,
business receptions
and more.



Contact:
3810 W. 63rd Street
Chicago, IL 60629
(773) 735 - 4415
[email protected]
You are 845360
guest on this site.
Banquet Prices
Tweet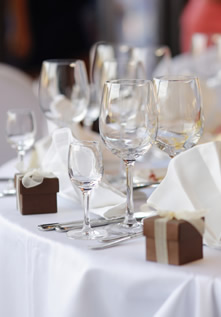 Book your Wedding, Quinceañera, Graduation party, Sweet 16 or any other Event in our Banquet Hall and you will get the Lowest Prices and the Best Service in Chicago IL.

By appointment only, call to schedule
($2.00 per person increase is projected for year 2020 bookings)
A $500 deposit is required to reserve the facility for a date of event.
FROM APRIL TO OCTOBER
Friday Package (minimum 100 people) open until 2:00am
$49 per person for 5 hours of hall privileges 3 hours open bar
plus family style dinner and decoration
Saturday Package (minimum 150 adults) open until 3:00am *
$51 per person for 5 hours of hall privileges 3 hours open bar plus family style dinner and decoration
$56 per person for 6 hours of hall privileges 4 hours open bar plus family style dinner and decoration
$61 per person for 7 hours of hall privileges 5 hours open bar plus family style dinner and decoration
$66 per person for 8 hours of hall privileges 6 hours open bar plus family style dinner and decoration
Sunday Package (minimum 100 people) open until 2:00am
$49 per person for 5 hours of hall privileges 3 hours open bar plus family style dinner and decoration
Children - from 2 to 12 years old 50% off
* Saturday full package only

---

Family style dinner
Dinner no alcohol, unlimited soft drinks $38 per person of hall privileges for 3 hours and decoration
Renting
$4 per person for one hour of hall privileges or $600 for one hour/ min 4 hours and 150 people
Cash and tab bar optional or $15 per person (2 hour OPEN BAR)

ALSO AVAILABLE:

$

30

Bottle of Wine

,

$

40

Bottle

of Champagne,

$

110

Bottle of

ABSOLUT

Vodka

,

$

100

Bottle of

Vodka

STERLING

or

SOBIESKI,

$230

Bottle of

PATRON Tequila, $170

Bottle of

BUCHANAN'S Scotch 12 Year (750 ML)



Shower Party Package (minimum 100 people)
$42 per person family style dinner 3 hours of hall privileges, glass of wine or champagne and decoration

************************************************************************************


FROM NOVEMBER TO MARCH
Friday Package (minimum 100 people) open until 2:00am
$48 per person for 5 hours of hall privileges 3 hours open bar plus family style dinner and decoration
Saturday Package (minimum 150 people) open until 3:00am
$50 per person for 5 hours of hall privileges 3 hours open bar plus family style dinner and decoration
$55 per person for 6 hours of hall privileges 4 hours open bar plus family style dinner and decoration
$60 per person for 7 hours of hall privileges 5 hours open bar plus family style dinner and decoration
$65 per person for 8 hours of hall privileges 6 hours open bar plus family style dinner and decoration
Sunday Package (minimum 100 people) open until 2:00am
$48 per person for 5 hours of hall privileges 3 hours open bar plus family style dinner and decoration
SECURITY/ $40 per hour
RENTAL Web Cam $400 / Flat screen TV-DVD $150 / Photo Booth rental $800 for 5 hours party
Professional Valet Parking (per request) $800.00
One hour open bar
From 100 to 150 people $800
From 151 to 200 people $1000
From 201 to 250 people $1200
From 251 to 300 people $1400
No food and drinks can't be removed from the banquet hall after event is completed with the exception of cakes and pastries
Royalty East Banquet Hall does not allow outside caterers in the Ballroom
ALL PRICES ARE SUBJECT TO 10.25%TAX
Prices Subject To Change Without Notice