We cater:
weddings,
christenings,
cotillions,
communions,
showers,
brunches,
family receptions,
business receptions
and more.



Contact:
3810 W. 63rd Street
Chicago, IL 60629
(773) 735 - 4415
[email protected]
You are 838327
guest on this site.
Mexican Menu
Tweet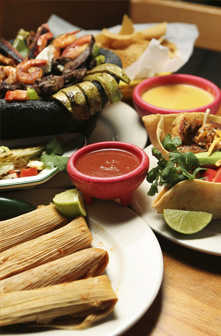 ~ PLATILLOS MEXICANOS / MEXICAN DISHES ~
Royalty East Banquet Hall offering an authentic Mexican food prepared all from high quality meats and fresh produce


El Paquete Incluye:
1 Sopa: Pollo Con Fideos, 3 Carnes, 2 Ensaladas frías y Arroz, Frijoles Fritos, Nachos, Salsa, Tortillas.
The Package Includes:
1 Soup: Chicken noodle, 3 Meats, 2 cold Salads and Rice, Fried Beans, Nachos, Salsa, Tortillas


~ PLATILLOS / ENTREES ~
Bistec A La Mexicana
(

Steak with Hot or Mild Peppers and Vegetables

)
Mole De Pollo Echo En Casa
(

Homemade Chicken in a Mexican Thick Sauce

)
Mole De Puerco
(

Pork in Mole Sauce

)
Fajitas De Res, Pollo O Combinacion
(

Vegetables with Beef, Chicken or Combo

)
Guisado De Puerco En Salsa Roja O Verde
(

Skillet of Pork in Red or Green Sauce

)
Guisado De Res En Salsa Roja O Verde
(

Skillet of Beef in Red or Green Sauce

)
Pollo Al Horno En Birria O Vegetales
(

Baked Chicken in Thick Red Sauce with Vegetables

)
Pollo Frito
(

Fried Chicken

)
Albondigas En Salsa Chipotle Barbeque
(

Meatballs in Chipotle Barbeque Sauce

)
Carnitas
(

Pork Meat

)
Barbacoa
(

Steamed Beef

)
Espaguetis con carne molida
(

Spaghetti with ground beef

)
Mostaccioli con salsa de tomate
(

Mostaccioli with tomato sauce

)

~ ENSALADAS FRIAS /COLD SALADS ~
Ensalada De Codito Con Jamon O Atun
(

Macaroni with Ham or Tuna in a Special Sauce

)
Ensalada De Papa Con J

amón


(

Potato and Ham Salad

)
Ensalada Sebastian
(

Fresh Salad with Ham and Mexican Cheese

)
Ensalada De Nopalitos Frescos
(

Fresh Cactus Salad

)
Ensalada De Jaiba
(

Crabmeat Salad

)
~

DESSERTS

/

PSOSTRE

~


Ice-Cream (Helado)
Peaches and cream (Duraznos y crema)
Jell-O and cream (Gelatina y crema)
Pudding (Pudín)
************************************************

Shish kabob de pollo
Pollo de volaille
Shish kabob de cerdo
Ensalada de legumbres

~TAMBIEN PROPORCIONAMOS A PETICION ~
MESA

DULCE

(variedad de pastelillos miniatura y frutas frescas en una mesa hermosa con faldas decorada con flores) $12.00 por persona

APERITIVOS Y BUFFET CALIENTE DE LA TARDE NOCHE

Plato frió ($35.00 por mesa)
Borscht rojo con rollitos de carne ($4.00 por persona)
Guisado de cazador ($30.00 por mesa)
Pollo Strogonov ($4.00 por persona)
Los hongos rebozada, Albóndigas en miniatura, Mini Pizza, Bruschetta, Mozzarella sticks, Alitas de pollo, Salchicha polaca, Salchicha italiana

($4.00 por persona opción de tres)
No food and drinks cannot be removed from the banquet hall after event is completed with the exception of cakes and pastries
Royalty East Banquet Hall does not allow outside caterers in the Ballroom


TODOS LOS PRECIOS ESTÁN SUJETOS A 10.25% DE IMPUESTO PRECIOS SUJETOS A CAMBIO SIN AVISO PREVIO

ALL PRICES ARE SUBJECT TO 10.25%TAX Prices Subject To Change Without Notice